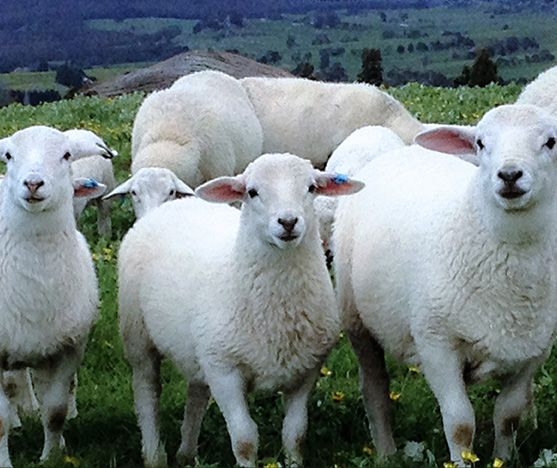 for the love of lamb™

Grass Fed – Naturally Grown – Australian White Lamb
Based 85 km north of Melbourne, in amongst the granitic boulders of Nulla Vale, Mikoni Park produces some of the best lamb you'll ever eat.
We are committed to breeding Australian White lambs. This premium breed has been specifically bred for the Australian agricultural conditions. They are unique because of their bright white almost fur coat and they are considered to be the Wagyu of lamb. You can actually see the marble effect so you know it's from an Australian White Lamb. The marbling renders during the cooking process and results in a sweet and tender experience that keeps our customers coming back for more.
We are focused on the welfare of our stock and our environment, with plenty of nurturing and care taken to ensure they are happy and healthy. This makes our experience as farmers more rewarding.
Being seasonal and on a small farm of 150 acres means we are not mass production, so we have a limited release of lamb each year. Please sign up to our newsletter to avoid missing out.
We select local suppliers so that we can reduce the distance our lambs need to travel before making it to your door. Our lambs are carefully prepared by Romsey Butcher in Romsey, who have significant knowledge of the best cuts for all seasons. All orders are vacuum sealed, labelled and weighed so you know exactly what you're getting in each pack. We also have a fantastic cooking guide and simple recipes for you to use.
We look forward to you sharing beautiful lamb dishes with the ones you love.
We know the importance of knowing where your food comes from. But how do you really know if it's ok? To gain trust and credibility we support and adhere to national and state regulations that all farmers must meet. This provides everyone with confidence that Australia's food system is at a standard that we all accept and ensure the health and safety of your family.
We only use Primesafe approved facilities and delivery vehicles so you can trust that your lamb has had the very best care. We are accredited with MLA (Meat and Livestock Australia) who manage stock traceability and on farm practices to ensure the safety of consumers and the food supply chain. All registered producers within Australia are subject to random audits. We were audited in July 2016 and passed with flying colours.
We hold up to date food handlers certificate as well as Victorian Famers Market membership and accreditation. We abide by local council regulations for selling our products at market and online.
We believe in transparency, so if there is anything that you would like to know about our farm practices please drop us a line.

for the love of lamb™ fresh grass fed products
Includes 100% grass fed butterflied leg, cutlets, BBQ forequarter chops, loin chops,  BBQ ribs,  Gluten Free Sausages, Lamb Kofta Burgers and our world famous lamb bacon
Lamb Lovers – Lamb Premium Pack
Perfect for a household of lamb lovers 660g 8 point rack, 1.5kg rolled shoulder, 8 thick cut loin chops, 1.4 easy carve leg roast, 500g mince, 4 shanks, 2 x 110g Wood Smoked Lamb Bacon, 2 x 110g Maple and Black Pepper Lamb Bacon