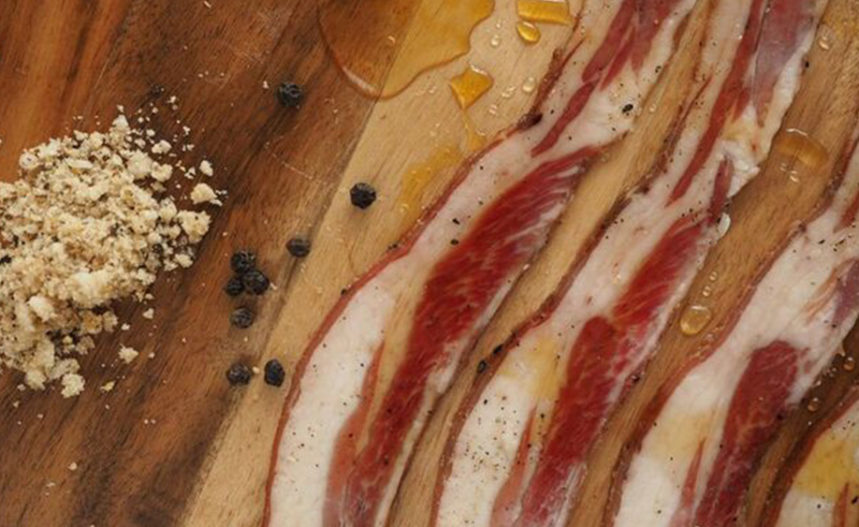 A delicious wood smoked and cured bacon made from the belly of the lamb, giving a full flavoured crispy bacon that lends itself to a wide range of uses – on your charcuterie platter, in a delicious brioche bun BLT, a crispy side to free range eggs or crisped and sprinkled on top of a fresh salad.
Here are a couple of ideas to enjoy this amazing product.
Slice a crispy baguette or sourdough load and drizzle with olive oil mixed with a little maple syrup.
Toast in the oven until just golden brown.
Crisp the bacon slices on an oven tray.
Top the crostini with a slice of bacon and a dollop of goats cheese.
Sprinkle with cracked black pepper and copped continental parsley.
Make your favourite Vietnamese fried rice recipe.
Crispy the Sriracha LamBacon™ in the oven.
Crunch into pieces and sprinkle on top of the fried rice with coriander sprigs.
Heat a grill.
Wrap each scallop in a slice of LamBacon™ and secure with a tooth pick.
Place on a lined baking sheet and drizzle with olive oil and season.
Place under the frill until the bacon is cooked through and scallops are slightly golden.
Serve with spicy Sriracha mayonnaise. Make this by mixing together 1 cup of good quality mayonnaise, 1⁄4 cup Sriracha (or less if you don't like it too hot), 1 lime (juiced), and 2 tbsp chopped coriander with more for garnish.
Serves 4.
500g packet fettuccine
1 tbsp olive oil
80g butter
1 large onion, finely chopped
250g Lemon & Herb

LamBacon

™, finely sliced

200g button mushrooms
200ml pure cream
1 cup grated tasty cheese
Cook pasta according to packet instructions. Drain well.
While pasta is cooking heat a large frypan over high heat, add oil, butter, onion, bacon and muschorroms.
Cook starring for 5 minutes or until bacon is crisp and mushrooms are tender.
Add cream, bring to the boil, then lower heat and simmer for 2 minutes or until slightly thickened.
Add past and cream to the pan. Stir through well until heated through.
Season with salt and pepper and server topped with chopped parsley and shaved parmesan.
1 deboned rolled loin of lamb
12 sliced of Lemon & Herb LamBacon™
500ml chicken stock
2 tbsp chopped rosemary leaves
2 garlic cloves, crushed
1 tbsp sea salt flakes
2 tbsp olive oil
2 tbsp lemon juice
Preheat oven to 200 degrees celcius.
Mix tother the rosemary, garlic, salt, oil and lemon.
Make slits in the lamb using a sharp knife and spread the mixture over, pressing into the slits.
Wrap bacon slices over the top of the lamb, overlapping layers slightly. Secure with kitchen string.
Place lamb on a wire rack in a baking dish. Add the stock to the dish and roast for 1 to 11⁄4 hours for medium or until cooked to your liking.
Serve whole on a platter with string removed for the full effect. Serve seperate bowls of sweet potato mash or cheesy polenta and wilted greens for guests to help themselves.
Footnotes
Cook's Note:

Editor's Note: