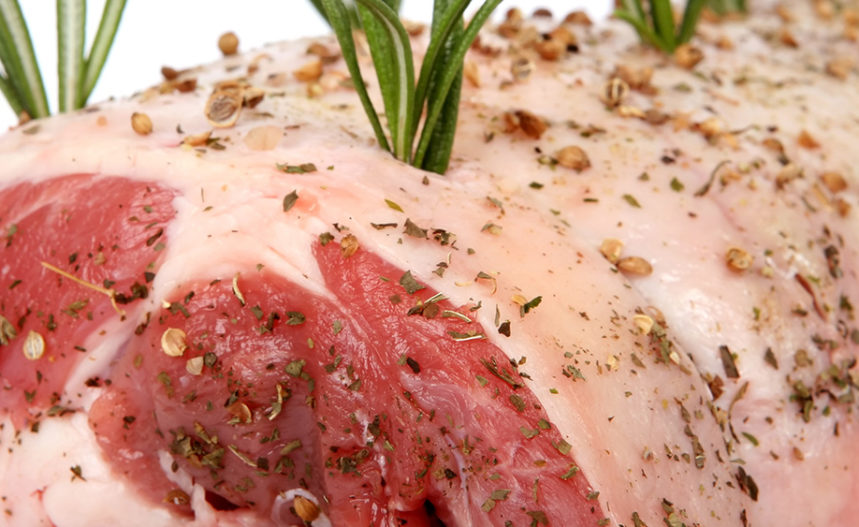 Comments Off

on Leg of Lamb Roasted or Butterflied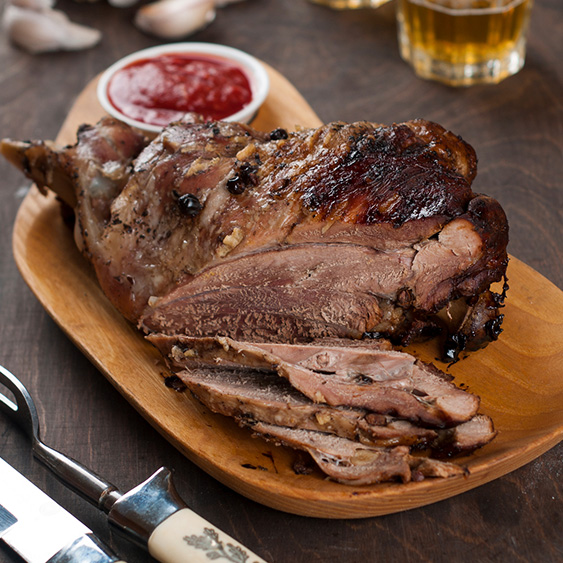 Leg of lamb comes from the hindquarter or rear leg of the animal. Leg of lamb is a naturally tender cut of meat. We recommend purchasing with the bone in to add full flavour to the meat.
The best method of cooking is to roast this cut whole. A leg of lamb lends itself to a variety of recipes and it can also be deboned, rolled and tied; or butterflied, which is when the bone is removed and the meat flattened out. This is delicious marinated then cooked on the barbecue; roasted or slow braised; or cubed for kababs.
To spice up the flavour of your roast, rub with a marinade and leave covered for 2 to 3 hours in the refrigerator.
Remove from the fridge for the last hour so the meat is near room temperature for cooking.
Roast in a preheated oven about 200C placed on a roasting rack in a pan for 25 to 30 minutes per 500gm of lamb.
Rest covered with foil 15 to 30 minutes before carving.
Mix together crushed garlic, chopped rosemary, lemon zest or chopped preserved lemon, olive oil and salt and pepper. Rub all over lamb.
Or make slits about two centimetres deep in the top of the meat using the tip of a sharp knife and insert garlic cloves and small sprigs of rosemary, drizzle with olive oil and sprinkle with salt and pepper.
Mix together 1⁄4 cup honey, 2 tbsp Dijon mustard, 3 garlic cloves finely chopped, 2 tbsp each of chopped rosemary and oregano, lemon zest and salt and pepper. Rub all over lamb.
Mix together 2 tsp each of ground cumin, coriander and paprika, 1 tbsp thyme leaves, 3 garlic cloves crushed, 1 tsp harissa (a spice mix available in most supermarkets), zest and juice of 1 lemon, 2 tbsp olive oil. Rub over lamb.
For a tasty Chinese-style marinade, coat the lamb in the following, but be careful not to burn when cooking (a piece of baking paper can be placed on the flat grill plate of the barbecue for high sugar marinades, but keep the paper away from open flames).
1

⁄

2 cup hoisin sauce
1

⁄

4 cup dry sherry
1

⁄

4 cup honey
1

⁄

4 cup tomato sauce
6 tbsp soy sauce
1 tsp minced ginger
1 tsp salt
This marinade and any flavour combination that you can create from your pantry, can be rubbed over both sides of the lamb and left to develop flavour for 1⁄2 an hour to 3 hours.
Sear both sides on a hot oiled barbecue then turn down the heat, close the lid and cook through to your preferred doneness. To test, insert a sharp knife and press to one side. If the juice is pink to red you know the lamb is medium to rare; if the juice is clear it is well done.
Footnotes
Cook's Note:

Editor's Note: