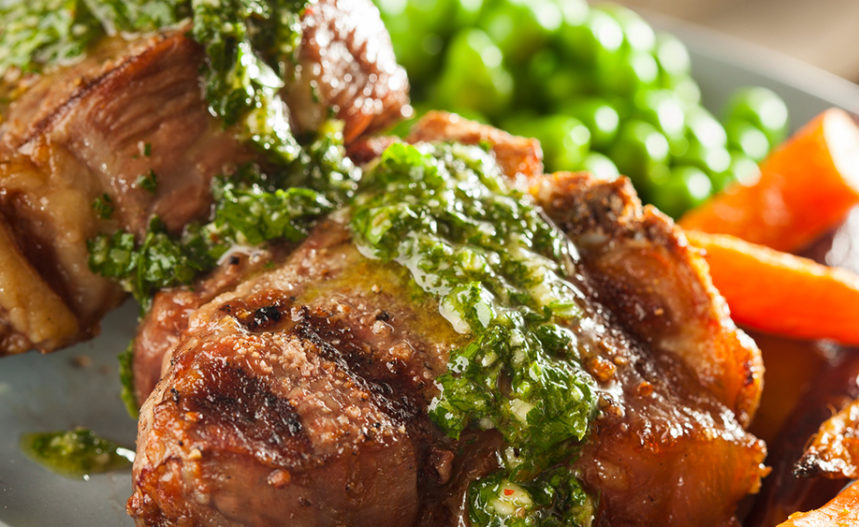 Comments Off

on Lamb Loin Chops or Loin Roast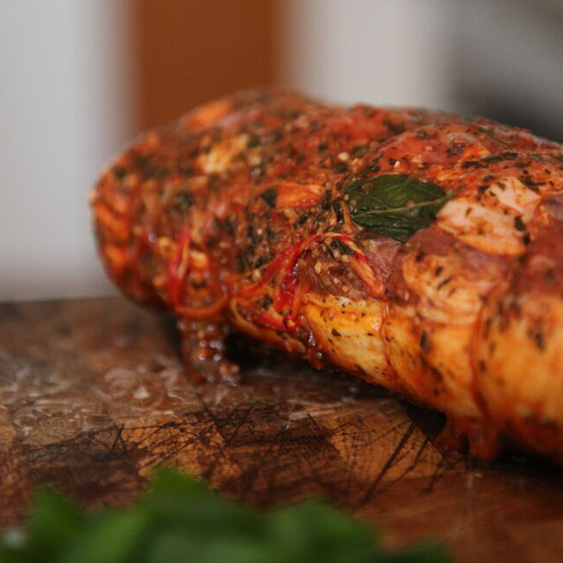 As these are cut from the saddle or loin of the lamb they are the most tender of the chops.
Loin chops are lamb's answer to Porterhouse steaks. They are best grilled over high heat for a short time or cooked long and slow not over the direct heat of the barbecue and with a lid on (that is to turn two of the barbecue flames on but cook over the plate that is not turned on).
Try this fresh spring flavour idea or try your own and share on our Facebook page.
Serves 4 (each serve is 2 chops).
Take 8 room temperature chops, season with salt and pepper both sides and places in a hot oiled pan and sear on all sides including the thin cut sides to render the fat. When cooked to your liking, remove from the pan and cover with foil to rest 10 minutes.
While your lamb is resting, place the following in a food processor or chop finely by hand and mix together:
3 cloves garlic
11⁄2 packed cups fresh washed mint leaves
11⁄2 packed cups fresh washed parsley leaves
2 tbsp red wine vinegar
3⁄4 tsp salt
1⁄4 tsp red pepper flakes
1⁄2 cup olive oil
Drizzle over your lamb loin chops and serve. We like to serve with a fresh garden salad and sweet potato chips. However the choice is yours.
Serves 4
1 cup couscous
1 red capsicum diced
1 spring onion finely chopped
1 mango flesh diced
1⁄2 cup currants
1⁄2 cup slivered almonds
1⁄3 cup chopped mint
1⁄2 cup natural Greek yoghurt
1 tsp olive oil
8 lamb loin chops
A Moroccan spice rub – 1⁄4 tsp each of ginger, white pepper, coriander, turmeric, allspice and cinnamon mixed together
Place couscous in a heatproof bowl, stir in one cup of boiling water. Cover and set aside for 5 minutes to soak.
Then use a fork to separate grains. Add the capsicum, spring onion, mango, currants, almonds and mint.
Season with salt and pepper and mix gently until well combined.
Rub most of the spice mix (reserving a small amount for the yoghurt) over both sides of the chops, and fry chops in the heated olive oil. Cook 3 minutes each side or until golden brown. Serve with the salsa and a dollop of yoghurt sprinkled with the remaining spices.
Slow cooking infuses the lamb with these signature Greek flavours resulting in melt in the mouth tender meat.
3 tbsp olive oil
1 kg rolled lamb loin
1 kg potatoes peeled and cut into chunks
1 bunch fresh rosemary
1 head of garlic
1⁄2 cup dry white wine
1⁄2 cup lemon juice (throw the skins in the post for extra flavour)
Peel and slice 6 of the garlic cloves and push the slices into slits made in the lamb skin.
Heat oil in a frying pan and sear the lamb all over for good colour. Push small sprigs of rosemary into the garlic slits on the skin. Place potatoes in the base of the slow cooker. Lay two stalks of rosemary on top, then place the lamb on top of the rosemary. Pour over wine and lemon juice. Sprinkle lamb with salt and pepper and pop the lemon skins in the pot. Place the lid on and cook for 6 hours on slow.
Serve with the slow cooker potatoes and a Greek salad.
Footnotes
Cook's Note:

Editor's Note: