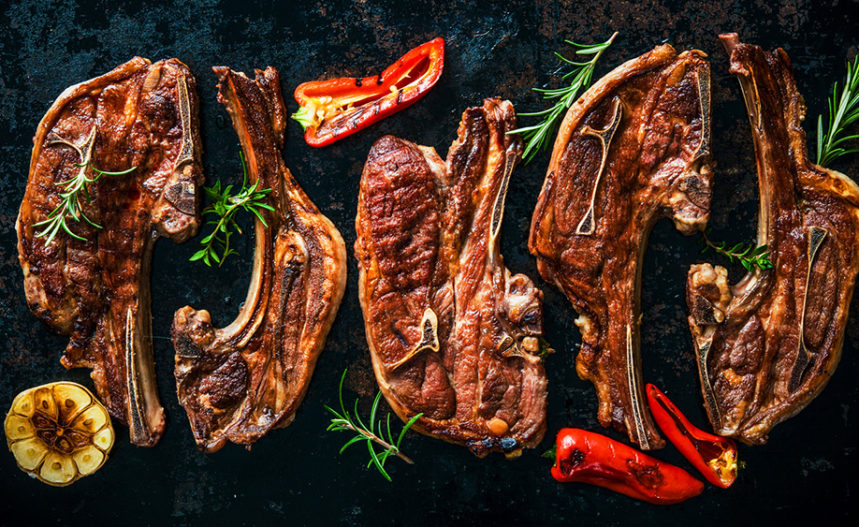 Comments Off

on Lamb Rolled Shoulder or BBQ Chops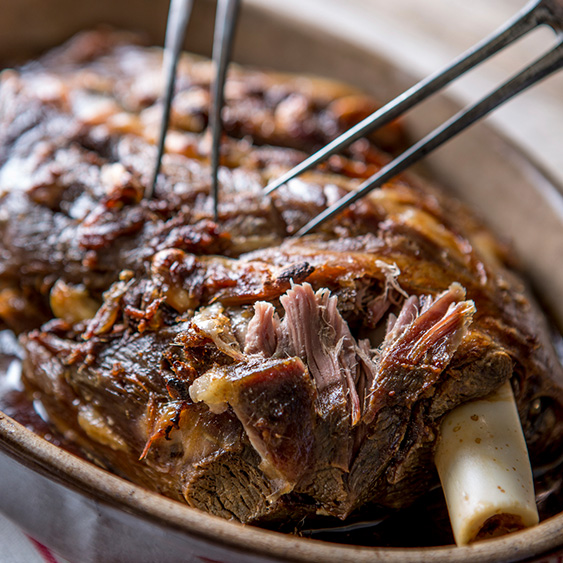 The name of the cut speaks for itself and can be stuffed and rolled for a delicious slow roast or cut into chops perfect for searing quickly over high heat on the barbecue or oiled grill pan.
For a scrumptious stuffed and rolled roast, try this Basil and Sun-dried Tomato Rolled Roast spring idea:
Recipe can be prepared a day ahead.
1.5 – 2 kg will serve 8 to 10 people with side dishes.
1⁄2 cup fresh basil
1⁄2 cup drained sun-dried tomatoes
1 onion
1 cup stale breadcrumbs (can be gluten free)
1 cup grated tasty cheese
2 tbsp plain yoghurt
1.5 – 2 kg rolled shoulder lamb
1⁄4 cup olive oil
1⁄4 cup lemon juice
1 small chicken stock cube, crumbled
2 tbsp chopped fresh basil
Blend or process basil, tomatoes and onion until combined. Stir in breadcrumbs, cheese and yoghurt. Unroll lamb and spread flat. Generously spread mixture over lamb and re-roll, securing with kitchen string. Refrigerate for several hours, or overnight, but bring back to room temperature before cooking.
Cook lamb in hot covered barbecue or covered dish in the oven, brushing every 30 minutes with marinade, until tender. Rest for 15 minutes before slicing.
Moist and tender, pulled lamb shoulder filled soft rolls or grilled wraps with Greek salad makes for a delicious meal. The way to get moist easy to fork lamb is to slow roast for many hours tightly sealed to keep all the juices in.
Preheat oven to 140 degrees census fan faced (160 without fan).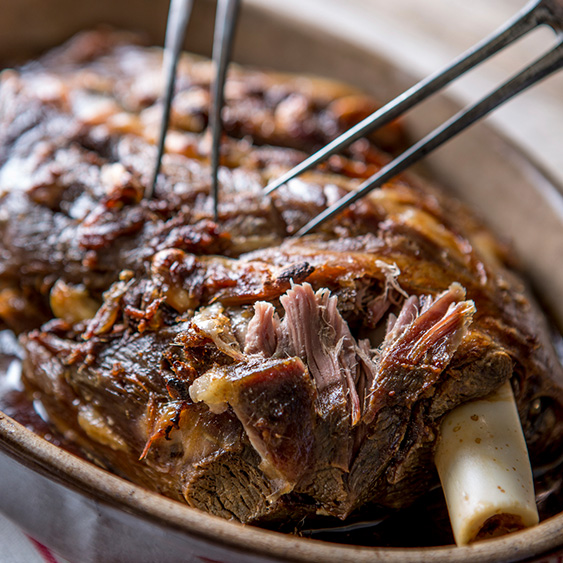 1.7 kg shoulder of lamb on the bone
1 tbsp fresh thyme leaves
1 sprig rosemary
1 lemon
4 garlic cloved
1 tbsp paprika
1 tbsp cumin seeds
1 tsp caraway seeds
3 tbsp olive oil
1 tsp sea salt
black pepper
Peel the garlic cloves, wash the thyme and rosemary and chop the leaves. Zest and juice the lemon. Put the garlic cloves, cumin and caraway seeds, paprika and sea salt in a pestle and mortar and lightly crush. Add the oil, lemon zest and fresh herbs and work to a paste (this can be done in a food processor). Mix the lemon juice and a generous grind of black pepper. Stir to combine.
Rub the past over the entire lamb and place in a roasting dish. Add 100 ml of water or chicken stock to the pan. Roast uncovered in the oven for 40 minutes. Bast the lamb with cooking juices and cover tightly with foil. Return to the oven and continue to roast for 3 hours, basting the meat every hour.
Remove the pan from the oven and skim the thin layer of fat from the cooking juices. Cover the meat tightly with foil again and rest for 15 minutes.
Pull the meat from the bone with a couple of forks and serve with the aromatic juices.
Barbecue chops are delicious and moist.
The way to stop them curling up is to either slit the fat slightly away from the meat at either end of the chop or to cook them away from the direct heat of the barbecue. This means you turn on say two of the burners but cook the chops on the plate that has no burners underneath on. Cooking them lower and slower with a lid on will result in chops that retain their shape and juices.
Season them both sides before cooking and spread with apple cider vinegar during cooking using a mist bottle. Brush with your favourite marinade just before serving.
Footnotes
Cook's Note:

Editor's Note: